Vues : 249
Brilliant Adventures [1992-2001], le 5eme coffret consacré à la carrière de David Bowie, sortira le 26 novembre prochain.
Les coffrets 11CD ou 18 vinyles comprendront des versions remasterisées de Black Tie White Noise (1993), The Buddha of Suburbia (1993), Outside (1995), Earthling (1997) et Hours (1999).
Ils proposeront également l'album inédit de David Bowie, Toy (qui sera également publié séparément le 7 janvier 2022).
Toy, produit par Tony Visconti, aurait dû être le vingt-troisième album studio de David Bowie. Enregistré en 2000 et prévu pour mi-2001, sa maison de disque Virgin refusera finalement de le mettre sur le marché.
Brilliant Adventure [1992-2001] permettra aussi aux fans de Bowie de découvrir sur Re:Call 5, des versions alternatives, des faces B et bandes originales et d'apprécier sur un double CD, sa prestation en live enregistrée par la BBC Radio le 27 juin 2000.
Brilliant Adventure [1992-2001] David Bowie / 11CD box set
CD 1: Black Tie White Noise [Remastered]]

The Wedding
You've Been Around
I Feel Free
Black Tie White Noise (featuring Al B. Sure!)
Jump They Say
Nite Flights
Pallas Athena
Miracle Goodnight
Don't Let Me Down & Down
Looking for Lester
I Know It's Gonna Happen Someday
The Wedding Song

CD 2: The Buddha of Suburbia [Remastered]

Buddha of Suburbia
Sex and the Church
South Horizon
The Mysteries
Bleed Like a Craze, Dad
Strangers When We Meet
Dead Against It
Untitled No. 1
Ian Fish, U.K. Heir
Buddha of Suburbia (featuring Lenny Kravitz on guitar)

CD3: 1.Outside [Remastered]

Leon Takes Us Outside
Outside
The Hearts Filthy Lesson
A Small Plot of Land
Baby Grace (A Horrid Cassette)" (segue)
Hallo Spaceboy
The Motel
I Have Not Been to Oxford Town
No Control
Algeria Touchshriek (segue)
The Voyeur of Utter Destruction (as Beauty)
Ramona A. Stone/I Am with Name (segue)
Wishful Beginnings
We Prick You
Nathan Adler (segue)
I'm Deranged
Thru' These Architects Eyes
Nathan Adler (segue)
Strangers When We Meet

CD 4: Earthling [Remastered]

Little Wonder
Looking for Satellites
Battle for Britain (The Letter)
Seven Years in Tibet
Dead Man Walking
Telling Lies
The Last Thing You Should Do
I'm Afraid of Americans
Law (Earthlings on Fire)

CD 5: '…hours' [Remastered]

Thursday's Child
Something in the Air
Survive
If I'm Dreaming My Life
Seven
What's Really Happening?
The Pretty Things Are Going to Hell
New Angels of Promise
Brilliant Adventure
The Dreamers

CD 6: BBC Radio Theatre, London June 2000 [Box Set Exclusive]

Wild Is the Wind
Ashes to Ashes
Seven
This Is Not America
Absolute Beginners
Always Crashing in the Same Car
Survive
The London Boys
I Dig Everything
Little Wonder

CD 7: BBC Radio Theatre, London June,2000 [Box Set Exclusive]

The Man Who Sold the World
Fame
Stay
Hallo Spaceboy
Cracked Actor
I'm Afraid of Americans
All the Young Dudes
Starman
"Heroes"
Let's Dance

CD 8: Toy

I Dig Everything
You've Got A Habit of Leaving
The London Boys
Karma Man
Conversation Piece
Shadow Man
Let Me Sleep Beside You
Hole In The Ground
Baby Loves That Way
Can't Help Thinking About Me
Silly Boy Blue
Toy (Your Turn To Drive)

CD 9: Re:Call 5 part 1 [Box Set Exclusive]

Real Cool World (Sounds From The Cool World Soundtrack Version)
Jump They Say (7" version)
Lucy Can't Dance
Black Tie White Noise (feat Al B. Sure!) (Radio Edit)
Don't Let Me Down & Down (Indonesian Vocal Version)
Buddha Of Suburbia (Single Version) (featuring Lenny Kravitz on guitar)
The Hearts Filthy Lesson (Radio Edit)
Nothing To Be Desired
Strangers When We Meet (edit)
Get Real
The Man Who Sold The World (Live Eno Mix)
I'm Afraid Of Americans (Showgirls Soundtrack Version)
Hallo Spaceboy (Remix)
I Am With Name (Alternative Version)
A Small Plot Of Land (Long Basquiat Soundtrack Version)

CD 10: Re:Call 5 part 2 [Box Set Exclusive]

Little Wonder (Edit)
A Fleeting Moment (aka Severn Years In Tibet – Mandarin Version)
Dead Man Walking (Edit)
Seven Years In Tibet (Edit)
Planet Of Dreams – David Bowie and Gail Ann Dorsey
I'm Afraid Of Americans (V1 – Edit)
I Can't Read (The Ice Storm Long Version)
A Foggy Day In London Town – David Bowie and Angelo Badalamenti
Fun (BowieNet Mix)
The Pretty Things Are Going To Hell (Stigmata Soundtrack Version)
Thursday's Child (Radio Edit)
We All Go Through
No One Calls

CD 11: Re:Call 5 part 3 [Box Set Exclusive]

We Shall Go To Town
1917
The Pretty Things Are Going To Hell (Edit)
Thursday's Child (Omikron: The Nomad Soul Version)
New Angels Of Promise (Omikron: The Nomad Soul Version)
The Dreamers (Omikron: The Nomad Soul Version)
Seven (Demo)
Survive (Marius De Vries mix)
Something In The Air (American Psycho Remix)
Seven (Marius De Vries Mix)
Pictures Of Lily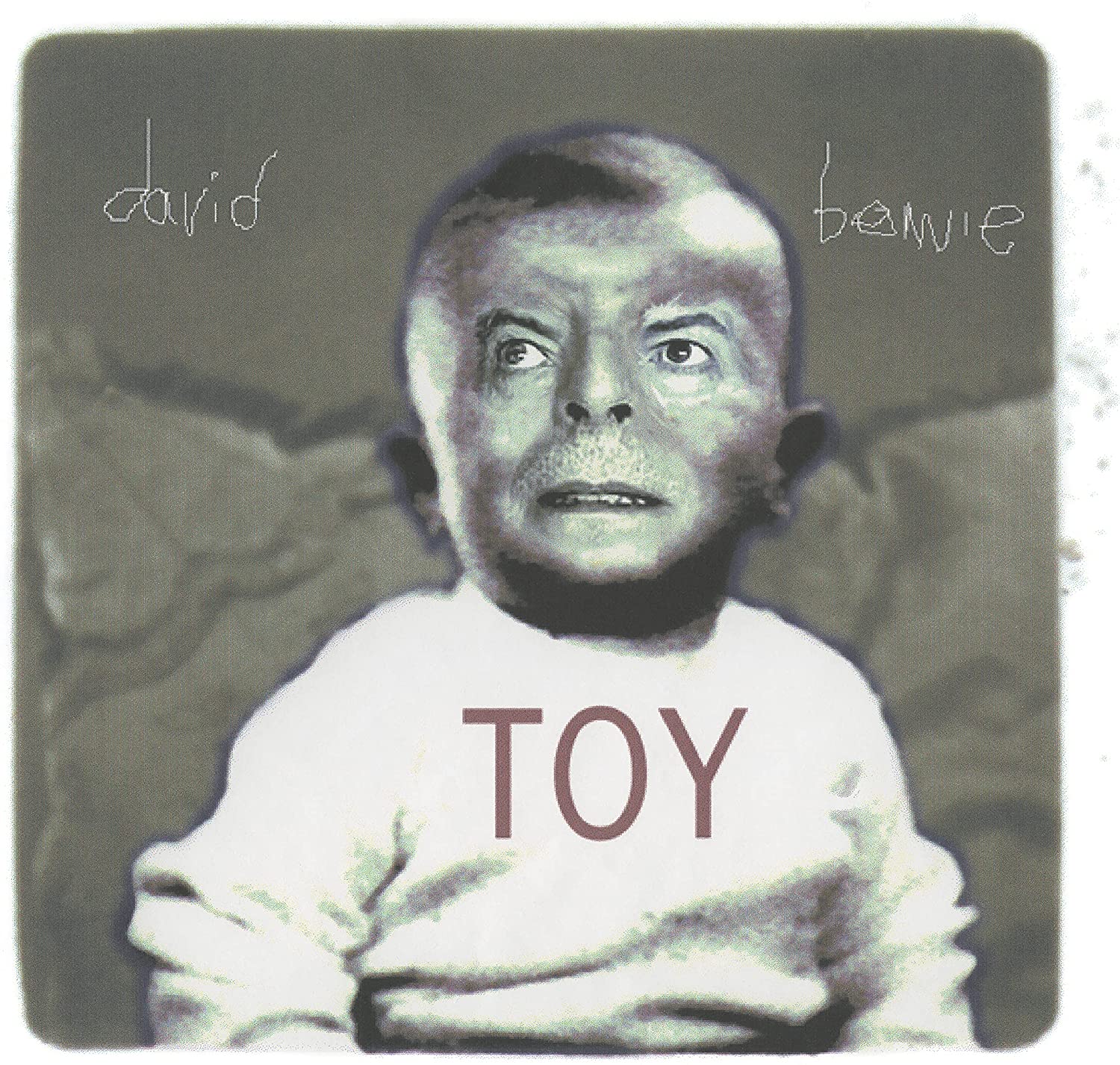 Toy Box David Bowie / 3CD box set
CD 1: Toy

I Dig Everything
You've Got A Habit of Leaving
The London Boys
Karma Man
Conversation Piece
Shadow Man
Let Me Sleep Beside You
Hole In The Ground
Baby Loves That Way
Can't Help Thinking About Me
Silly Boy Blue
Toy (Your Turn To Drive)

CD 2: Alternatives & Extras

Liza Jane
You've Got A Habit of Leaving (alternative mix) *
Baby Loves That Way (alternative mix) *
Can't Help Thinking About Me (alternative mix)
I Dig Everything (alternative mix)
The London Boys (alternative version)
Silly Boy Blue (Tibet version)
Let Me Sleep Beside You (alternative mix) *
In The Heat Of The Morning
Conversation Piece (alternative mix) *
Hole In The Ground (alternative mix)
Shadow Man (alternative mix) *
Toy (Your Turn To Drive) (alternative mix) *

* previously unreleased

CD 3: Unplugged & Somewhat Slightly Electric

In The Heat Of The Morning (Unplugged & somewhat slightly electric mix)
I Dig Everything (Unplugged & somewhat slightly electric mix)
You've Got A Habit of Leaving (Unplugged & somewhat slightly electric mix)
The London Boys (Unplugged & somewhat slightly electric mix)
Karma Man (Unplugged & somewhat slightly electric mix)
Conversation Piece (Unplugged & somewhat slightly electric mix)
Shadow Man (Unplugged & somewhat slightly electric mix)
Let Me Sleep Beside You (Unplugged & somewhat slightly electric mix)
Hole In The Ground (Unplugged & somewhat slightly electric mix)
Baby Loves That Way (Unplugged & somewhat slightly electric mix)
Can't Help Thinking About Me (Unplugged & somewhat slightly electric mix)
Silly Boy Blue (Unplugged & somewhat slightly electric mix)
Toy (Your Turn To Drive) (Unplugged & somewhat slightly electric mix)